Is There a Right or Wrong Side of Batting
There is a right and wrong side to some batting. If you place your batting wrong-side up, you can have issues with beard and even thread tension problems. Check and see if you can tell if your batting is needle-punched by giving it a close look. If the surface looks like it has tiny dimples in it, it's been needle-punched. And that side with all the tiny dimples is the right (top) side. The wrong side of needle-punched batting looks like it has tiny balls all over the surface. That side needs to go next to your quilt back. I have never seen bearding on the front (top) of a quilt, but surely on the backside. Be sure to use new needles when quilting. Maybe consider a Black Batting if using batik or dark fabrics.
If the batting has a scrim*, the side with the scrim surface is the wrong side. In the case of Hobbs 80/20, when we open the batting (it comes folded on the roll), the inside goes 'down' towards the backing.
With bonded batting, there is not a right or wrong side.
If you're quilting on your domestic machine (DSM), always use a new needle. It will cleanly punch through all layers of the quilt, so bearding for whatever reason won't be an option. The size of the needle will depend on the thread used. Long arm needles are more heavy-duty and can take the abuse of quilting several tops before needing to be replaced.
100% Polyester Batting does not have a right or wrong side. Just varying loft (thickness).
Different Batting Brands
The longer you quilt, you will try more brands of batting. Most likely, you will probably find yourself liking one brand over the other. My favorite brand is Hobbs 80/20, followed by Quilters Dream and Warm and Natural. I like Hobbs for lots of reasons: They have different lofts and blends, so I can find just about anything I need for any quilt I'm making.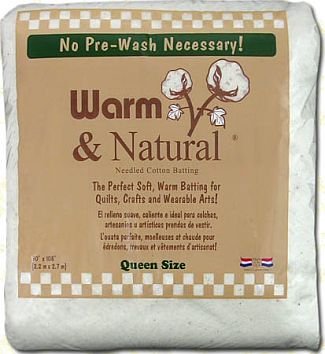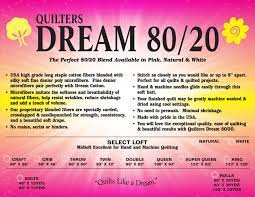 What is a Quilt Sandwich?
The definition of a quilt is three layers sewn together. A top, batting and backing. Batting is the the center element of your quilt sandwich. My go-to batting is Hobbs 80/20. It's made of 80 percent cotton and 20 percent polyester. It washes well, holds up to dense quilting, and is generally a great all-around batting. I have used Hobbs 80/20 batting for over 20 years while making t-shirt quilts for others. Have always been pleased with the results.
What Batting Do You Use For Hand Quilting?
When I was doing my hand quilting (1978 - 2003), I ONLY used 100% cotton batting. Didn't matter if it had a scrim or not (most didn't during that time). This batting gives great drapability and gives a slightly puckered, antique look after being laundered. Many people use cotton batting in show-bound quilts, as this batting seems to show off the piecing the best because the cotton batting is low-loft. Keep in mind if you take this quilt to your longarm quilter, they may say NO, and request you use another batting as the 100% cotton does not stand up to the tugging and pulling that is required on a longarm machine.
What Batting Should You Use For Applique Quilts?
Now, if the quilt top is appliqued or pieced and appliqued, I would suggest a wool batting. Wool batting has a bit thicker loft, which means my quilting stitches will take the spot light (whether hand or machine quilted). When looking at those stitches around the applique, the applique will appear to "pop" off the quilt top and also be showcased. If I really want my applique to shine, I use two layers of batting. I use a cotton batt next the backing and a wool batt next to the quilt top.
With any batting, make sure that you read the directions before making your sandwich and proceeding with quilting. There are a few terms that may appear in the instructions you need to understand like how close the quilting should be.
NOTE: the size of a FIST is usually the max for open space.
Batting Terms
*Scrim - This is a light layer or grid of woven fibers added to some cotton battings. It acts as a stabilizer and helps to hold the batting together while quilting. This can be a good safeguard if the quilt will be frequently washed- the fibers won't separate.
Blend - Generally a blended batting is 80% cotton 20% polyester. The polyester gives a bit of strength to the batting, making it a great choice for longarm quilting
Bonded - Quilt battings contain a type of glue or bonding adhesive, which means the batting may separate if the quilt is washed. In order to avoid this, close quilting lines are needed to make sure the batting holds up over time.
Bearding - This is something to avoid. It refers to any wispy fibers that eventually seep out of the quilt top. This generally happens with lower-quality batting.
Fusible - While I am not a huge fan of fusible batting (I think it is too stiff), but for small projects and quilted items such as bags, it's a useful tool. I find myself struggling with it if I use it for larger quilt tops and I can't seem to get it to bond evenly and without wrinkling.
Spray Baste - Using regular batting, but using a spray fusible to adhere the batting. Great for small quilts. Awkward for larger quilts.

You may also be interested in:
Back to Quilt Learning Center