Frankenbatting simply refers to piecing together batting scraps in order to make batting big enough for your quilt top. Once used in a quilt and quilted, you can't tell at all that your batting was pieced from scraps.
Over the years of making quilts for others, I ended up with a LOT of batting scraps. What do you do with all of those scraps, that are perfectly usable, just not as large as you would like them to be to quilt another quilt. I first heard the term Frankenbatt on my Stashbuster list online. I laughed so hard, I spit my coffee, but the name is fitting.
How to Create a Frankenbatt
Start by gathering your leftover pieces of batting. I save the largest trimmings left over from the bottom of the quilt.
Trim down the largest edges so they are straight. This is very important to make sure your frankenbatting doesn't get wonky and bumpy later.

The best method to get straight lines is to overlap two scraps of batting, then using a ruler, cut a straight line through the overlap. Zig-zag those edges together.
Sew two pieces together using a wide zig zag stitch. A small bit of overlap of batting is just fine. Just be sure to trim excess that pokes out from the stitches.
Use the SAME type batting scraps. DO NOT mix poly-blends, 100% cottons or 100% polyester as you will end up with a lumpy batt.
After sewing batting scraps together you have - Frankenbatt!!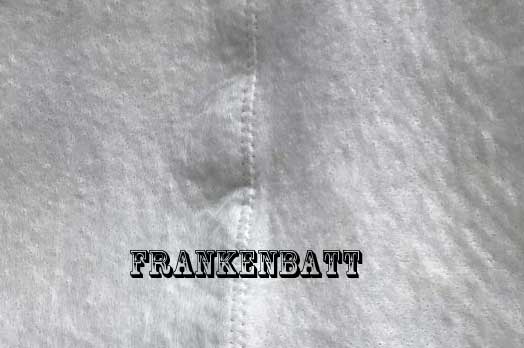 Keep adding pieces until you have a batting that is large enough for your quilt.
I havn't had any issues with any quilts using the frankenbatt method. You cannot tell once it's quilted, and even before, that there are any seams in the batting. It's a great way to use up pieces that would otherwise be considered trash.
The other option for longarm-quilters is to slightly overlap the scraps, lay the quilt top over it, and quilt away. We have used this method for many years quilting charity quilts. There might be a bit of excess batting, but for the most part, you can't tell once the quilt is quilted.
You may also be interested in:
Back to Quilt Learning Center