Other Services
Pillowcases
We can create coordinating pillowcases to go with your quilt or t-shirt quilt. Just takes a 1/2 yard of fabric for the focus fabric or let us select matching fabrics to go with your project.
Pillows
Decorator pillows and shams for use as decorative accents can be made to match your quilt from fabric you supply.
A wide variety of design choices are available including open templates which allow any pattern of your choice to be used.

Price - By the square inch, just like quilts. (Pillow form, batting and backing not included or priced seperatly.)
Assembly instructions will be provided.
Request a quote for quilted pillows or shams.
Quilted Tote Bags and Purses
Check out our patterns for quilted totes, purses, placemats, etc. by selecing "Quilted Items (Pillows totes, etc.)" from the Type Drop-down box on the PATTERNS webpage. You supply the fabric, we do the quilting. Stitching Price - by the square inch, just like quilts. Request a quote for quilting Tote bags or purses.

Yardage Quilting
This is where you send in your fabric; enough for the top and backing. We quilt the yardage, then you can take the quilted layer and create your own projects such as totes, bags, placemats, tablerunners, bibs, shams, or any other craft project. Pricing is the same as regular quilting, depending on the density of quilting that you request. This is perfect for creating 'fabric' to coordinate with your new nursery, dining room or other decor option.
Quilt Preparation
Any 'extras' that you have us do, such pressing, mending, squaring up, trimming threads or other special preparation; $20/hr.
Seam Backing
$10 per Seam to stitch, please remove selvedge edges, square backing and press the seams open. Fabric should be pressed, ready to work with. Hanging your quilt backing and quilt top on a hangar is best way to keep things from wrinkling.
Quilting Previously Tied Quilts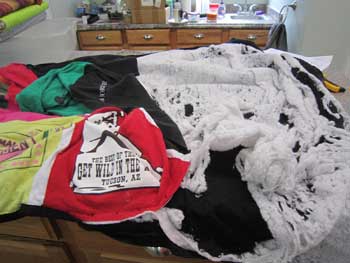 Usually, this just involves an hourly rate to remove the existing ties. You are more than welcome to remove them yourself before submitting the quilt to be quilted. We do this service "A LOT" on T-Shirt Quilts that were done by non-professionals. If you want your quilt finished in a professional manner, we can help you with this. We do have a special rate for the 'utility style' quilting that we provide on T-Shirt Quilts.
What is Required to Refinish Tied Quilts
While your previous blanket maker 'might' have included batting as a filler, we cannot reuse batting. More than likely, we can use the backing. However, if is cheap fabric (not quilt shop quality), we reserve the right to require the backing be replaced. We cannot work with old fleece, or thin Wally World type fabrics.
The photo to the right shows the 'insides' of a NON-quilted -NON tied Blanket. This is why we cannot reuse batting.
Just ask. Click HERE for more info on working with Tied Quilts.
Back to Professional Machine Quilting Updated May 20, 2022