Professional Longarm Quilting Service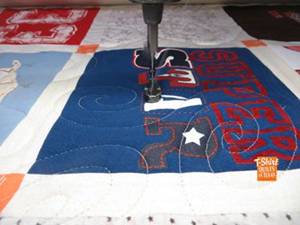 We offer quilt finishing services. We take your quilt top or quilt blocks and do everything needed to turn that quilt-top into a finished quilt.

There are a lot of grandmothers and aunts who were quilters and did not have time to finish all of their quilt projects. Maybe you found a cool quilt-top at a flea market, estate sale or on eBay. Whether you have a quilt top, quilt blocks or a pile of fabric, we can take what you have and turn it into a finished quilt that you will treasure for a lifetime.
If you do not provide the backing fabric, we try to find a reproduction print or other quilting fabric that is appropriate for the quilt top/blocks.
Quilt finishing service is one price for quilting, batting, backing and binding based on the size. Generally what I do is price out each service individually and round it down. The size of the quilt (square inches) determines final pricing.
More Info:
Quilt Finishing Services
If you are like most quilters, you love to piece those quilt tops but are then faced with the dilemma of how to handle that large quilt in a small home sewing machine.? Hand quilting is one option but that is going to take months and you just don't have that kind of time.
We love quilts, we love to see what you are working on. We have several quilt shops in the Houston area, so we see a variety of quilts. However, my favorite quilt tops come from other areas of the country where the quilt shops have new and different ideas and offerings than what we have locally. I have a 'regular' quilter that lives in the Atlanta area. I 'know' that there are lots of quilters in that area, but she still sends all of her quilts to me. That is a huge responsibility that I take very seriously, and always strive to give her the best job I can.
Rates

Longarm Quilting
Services

Price per
Square Inch**

Minimum Charges**

Meandering - Utility (Crazy Puzzle)

$0.0175

$50.00

Pantograph (edge to edge) (Level II)

$0.02

$50.00

Pantograph (edge to edge) (Level III- dense)

$0.03

$50.00

Price

Baby Quilt Finishing

$65

Includes quilting, batting and binding.
Maximum size 36" x 45"
Patterns
We use the IntelliQuilter computer system and have hundreds of patterns (pantographs) on file. If you have seen a pattern that you like, just let us know where you found it. We probably already have or something similar. Listed below are several .jpg files or click on the pdf file (pretty large file) with several popular patterns. Mostly, the patterns fall under the .02* rate.
Pantos
Below find several pages of popular pantos, along with their names, list alphabetically.
Page 1 > Page 2 > Page 3 > Page 4 > Page 5 > Page 6 > Page 7 > Page 8 > Page 9 > Page 10 > Page 11 > Page 12 > Page 13 > Page 14
Batting
You are welcome to provide your own batting. We generally use Hobbs Heirloom 80/20 and is priced at .29 linear inch. It is 98" wide, so generally the measurement is the 'short' side of your quilt. We only charge for what we cut.
Thread
Thread of choice is Omni Quilters thread. We have many other threads in stock, but all are eventually being replaced by Omni.
OF COURSE we DO NOT charge for thread!! How else are you going to get your quilt quilted.... However, if you have special request threads, such as varigated or other threads, we reserve the right to charge an additional fee.
Backing
Generally you will provide, but we can certainly find a suitable backing from over 800 bolts of fabric in house. We do NOT stock 108" backings, as there is usually so much waste. If you buy the backing from us, we do all the prep (back seam and ironing) at no additional charge.

Binding
We can do it - or not. We only apply binding by machine. However, if you want to do the final whipstitch by hand, let us know and we can apply the first seam by machine to the top of the quilt. Price varies depending on what level of service we provide.
Turn Around Time
Count on three to four weeks. That is not always the case, but as we are also doing t-shirt quilts, our schedule fluctuates during peak seasons of t-shirt quilts (Christmas and Graduation). When you contact us, let us know your needs. We can usually work around things. Beware the quilter that promises a 7-day turnaround time on a regular basis. It means that they don't have much work, and probably are not very experienced.

If you need it in a real hurry, let us know, we have an Expedite Fee that puts you at the top of the queue.
Return Shipping
$25 covers shipping to everywhere in the lower 48 states except for Texas. Texas shipping will be adjusted for regional rates. Note that If we are returning a baby quilt to New York or California, no worries, we will adjust that rate as well.
* Prices effective until 12/31/2020
Shadywood Quilts offers long-arm machine quilting, t-shirt quilts, quilt binding, labels, and completed quilts for purchase.
Return to "All About Quilts"
Longarm SERVICE
We are quilters (since 1978 - when I was just a kid - ahem) and live, breath and sleep quilts! That is a big statement, but rest assured that we take every quilt we receive very seriously. Whether it is your first quilt, or the quilt of the month. We want you to be a happy quilter, and want you to be happy with what we send back to you.
Customer Service is our top priority and we will bend over backwards to make it so!